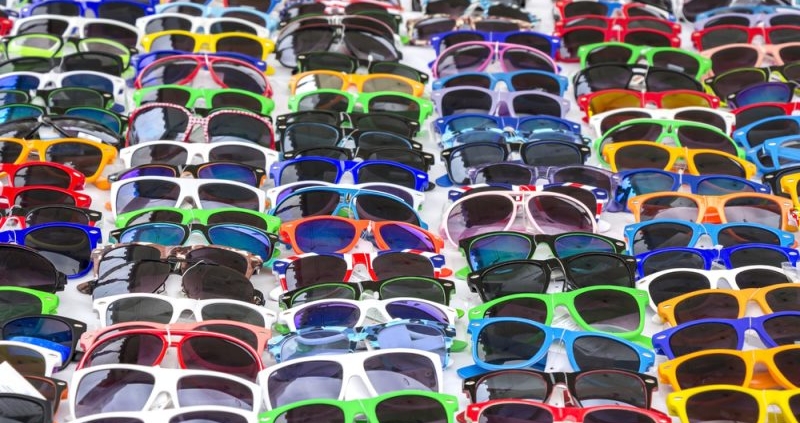 We've all been basking in the glorious sunshine that has graced British shores for the past month and have spent every possible moment outdoors to make the most of it, whilst it lasts! Why not – as well as being somewhat rare in the UK, being in the sun has many benefits. It naturally helps us to feel happier inside by boosting our Vitamin D levels, as well as protecting against inflammation, lowering blood pressure and improving brain function, to name a few!
In preparation for the bright sunshine, it is common for people to make the quick decision to pick up a pair of cheap high street sunglasses as a last minute purchase, whether you lost your own pair somewhere, left them at home, or just like the look of a trendy pair you just came across.
Despite all of the positive aspects of soaking up the sun, it does also emit harmful UV rays that can cause skin damage and eye damage, especially when wearing those £5 pair of sunglasses that aren't blocking out any UV rays.
What are UV Rays?
UV (Ultraviolet) rays consist of UVA and UVB rays that can be potentially dangerous if the correct eye protection isn't worn. Research has suggested that UVA rays can have a catalytic effect in the long term development of serious eye conditions later on in life, such as cataracts or age-related macular degeneration. Cataracts can cause your vision to become cloudy, and inevitably lead to cataract removal surgery, whereas macular degeneration results in the loss of central vision, which cannot be presently be cured.
On the other hand, UVB rays cause short term eye damage in the form of photokeratitis, which effectively is the same as getting sunburnt eyes. If you have ever had the misfortune of suffering from the stinging pain of sunburn on your skin, you can only imagine how painful it would be for your eyes. In some serious cases of prolonged sun exposure without eye protection, individuals even suffered from temporary blindness.
How Can Sunglasses Increase Sun Damage to Your Eyes?
With the knowledge that UV rays can cause substantial damage to eyes if they are left exposed to them for large amounts of time, it is evident that wearing cheap sunglasses will actually do you more harm than good, no matter how stylish they might look.
A lot of high street sunglasses have what appear to be dark enough lenses for sun protection, however they don't actually carry adequate UV protection. The problem here lies with the fact that we wear sunglasses to stop us from squinting in the bright sunlight. Squinting is the eyes natural way of protecting eyes by constricting the pupils to let less UV rays and glare in.
However, behind dark lenses, our pupils dilate again as they adjust to light levels, and let plenty of sunlight in. Without UV protection on the lenses, your dilated pupils will let in all of the harmful rays which you thought you were being protected from, doing a lot more damage than good to your eyes.
Choosing the Best Sunglasses for UV Protection
Having all of this in mind, it's not too late to buy the best sunglasses for UV protection and prevent any further eye damage in the future.
First and foremost, it is of the utmost importance to purchase sunglasses that carry 100% UV protection. Always look for verified stickers or tags on sunglasses that have a minimum of UV400 protection. This is a surefire way of telling which sunglasses have UV filters apart from the ones without.  A pair of high quality sunglasses will always have a protective UV coating on the lenses which will block out those pesky UVA and UVB rays.
Another feature of high quality sunglasses is polarised lenses, which work to eliminate glare (intense light) that we experience on bright days, like the ones we've been enjoying recently. Glare from the sun bounces of reflections like car bonnets, the ocean, tarmac on the road and even snow. Even though a good pair of sunglasses may have 100% UV protection, some people still struggle with glare when driving, playing sports, or simply looking out into the horizon on a tropical, sunny beach.
Polarised lenses offer complete UV protection, as well as cutting out glare, to prevent squinting and potential accidents from any sudden distractions caused by intense light, like temporary blindness whilst driving or skiing. This improves clarity of vision, accuracy and reduces eye strain and fatigue, making it a safe option for enhanced eye protection.
Now's a good a time as any to invest in the best pair of sunglasses for UV protection and glare elimination, before heading out eagerly out into the sunshine again, knowing that your eyes are protected against sun damage.
Protect yours and your family's vision today to prevent further deterioration in the future, and if in doubt, stop by at any of our branches to browse our sunglasses selection, including names like Ray Ban, Prada, Tiffany & Co and Gucci as well as many more.
We have both non-designer and designer options for children too, depending on your budget and a variety of lenses options that we can go through to meet your eye care needs.
Alternatively, feel free to contact our friendly and expert team online here, or by calling any of our branches on 01489 891 182 (Bishops Waltham), 023 8060 1988 (Fair Oak), 01794 512 480 (Romsey), 023 9282 7158 (Portsmouth), 023 8055 0431 (Southampton).
https://ashleighsightcare.co.uk/wp-content/uploads/2021/05/shutterstock_215771326-1-e1532101256151.jpg
498
800
jon@zd9.co.uk
https://zerodotnine.co.uk/preview/asc/wp-content/uploads/2021/05/Ashleigh-Sight-Care-Logo.svg
jon@zd9.co.uk
2021-04-20 19:44:35
2021-07-22 18:31:08
Importance of Good Quality Sunglasses