Eye Test – Romsey, Bishops Waltham, Southampton – Portswood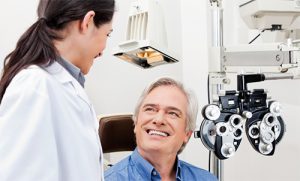 At independent opticians, Ashleigh Sight Care, your comprehensive eye test is completely tailored around your personal needs and concerns. With branches in Romsey, Southampton, Portswood, Bishops Waltham and Portsmouth you can find a convenient location to make an eye test appointment. Typically your examination will last up to 40 minutes, giving us the time to get to know you and your unique visual requirements, and to carry out a thorough assessment of your eye health. We will take as long as is needed to ensure that we obtain as complete a picture of your eye health as possible, so allow plenty of time for this when you make your appointment.
All our practices use up to date technology to check your eyesight, eye health, testing for changes to your prescription, your eye coordination and (when needed) your peripheral vision. During your examination, your optometrist will also actively search for early signs of both common and rarer eye conditions. It is known that the earlier any problems are identified, the better the chances of successful treatment in the event of any hidden disease process being discovered.
We actively encourage everyone to upgrade their eye examination to include an 4D OCT eye scan that sees below the retina. This captures detailed 4D images of the insides of your eyes, allowing our optometrists to identify the slightest hidden abnormalities and the first signs of conditions such as glaucoma, macular degeneration and diabetic retinopathy. OCT eye scans are recommended for the over-4o's since the relative risks of eye problems increase as we become more mature – and scanning is the only way of us seeing or finding any hidden problems under the retina at the back of the eye.
National guidelines suggest that adults should have their eyes tested every two years, whilst children under 16 and adults over 70 should book annual examinations according to optometrist advice. When was the last time you had your eyes tested? If you're due your examination, book your eye test appointment at one of our branches Romsey, Bishops Waltham, Portswood, Southampton and Portsmouth –  request an appointment online
NHS-funded eye examinations
Our optometrists are passionate about offering everyone access to high quality eye care, so we also carry out NHS eye examinations for eligible adults. Children are always eligible for NHS-funded eye tests, allowing us to issue vouchers that may cover all, or part, of the cost of their glasses.
If you want to find out if you're eligible for a free NHS eye examination? Check this link https://www.nhs.uk/NHSEngland/Healthcosts/Pages/Eyecarecosts.aspx