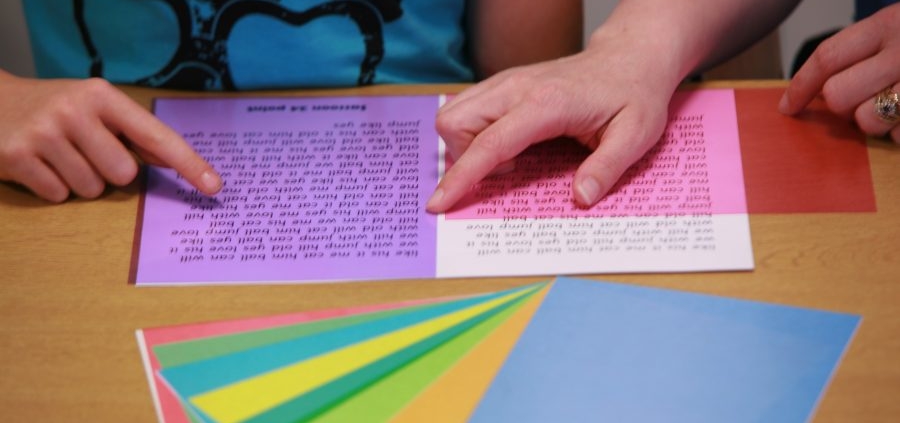 Does your child have dyslexia or any other learning and reading difficulties? If this is the case, school can turn into an overwhelming experience, impacting negatively on your child's education. Many will resign themselves to thinking that is what a normal reading experience is supposed to be like and conclude that reading isn't for them. This ultimately causes them to fall behind their classmates and lose confidence at school, resorting to disruptive behaviour as a coping mechanism.
Although it might feel like it sometimes, you can rest assured that your child isn't alone in their struggle. In fact, a large proportion of the UK population live with learning difficulties caused by a visual dysfunction. According to research carried out by Professor Wilkins at the University of Essex, up to 20% of the population in the UK schools suffered from visual difficulties associated with reading.
Although dyslexic people do tend to suffer from visual difficulties more when reading, the symptoms of a condition called Meares-Irlen Syndrome, or Visual Stress, which can be similar to the signs of dyslexia can also be at the root of reading difficulties for some children.
Symptoms of Meares-Irlen Syndrome
Meares- Irlen syndrome can occur in individuals who have always had normal eyesight, but experience discomfort when viewing a printed page. Although it is particularly prevalent in people with dyslexia, it isn't exclusive to them. Here is a list of symptoms associated with Meares-Irlen Syndrome:
Glare from a white page
Blurry words/letters
Moving words/letters
Skipping or missing words
Having to use a finger to keep place on the page
Re-reading the same line more than once
Reading slowly or hesitantly
Poor concentration
Eye strain and fatigue
Frustration when reading
Headaches and migraines
Low self esteem
Children's written work can also be affected, as they find it difficult to read their own writing, which is often misspelt and written untidily.
Visual Stress Test
So, if you do suspect that your child might have experienced some of the symptoms we mentioned, what happens next?
If you've already taken your child to have their NHS funded sight test, to rule out other potential ocular causes of reading difficulties, the next step we recommend is to have a Visual Stress test, in the form of a clinical coloured overlay assessment for your child. This involves measuring their reading speed and comfort, whilst using precision coloured tints on a computer screen.
Research has shown that introducing an overlay of a specific colour in front of printed text can alleviate symptoms of Visual Stress and increase reading speeds. Coloured overlays can be used for dyslexia, if the individual shows indicators of Meares-Irlen Syndrome.
They are simply sheets of precision tinted translucent or transparent plastic that can be placed over a page of writing. Each child will have a different colour preference, so what works for one might not necessarily work for someone else. This is why is it so crucial to find your child's preferred tint through the overlay assessment, instead of opting to use a random coloured overlay that schools sometimes provide.
Increased reading speeds, fluency in reading, less frequent headaches and more concentration will slowly bring back your child's confidence and motivation, allowing them to reach their full potential at school.
Visual Stress Test in Southampton and Portsmouth
We are proud to provide a clinical computer based coloured overlay assessment in the towns of Southampton and Portsmouth for children suffering with dyslexia or any other learning and reading difficulties. No child should have to suffer through school and go through life feeling dejected and alone in their struggle, so we endeavour to do all that we can to help them flourish and grow positively. We have already managed to help several students successfully and with the new school year starting, we're always ready to help some more!
Here's a testimonial from a happy parent who came in to get a visual dyslexia test for her child:
"My son had his eyes tested and a dyslexia colour test done by Bish at Fair Oak. Bish was so patient and put my son at ease, did not rush him through the process and kept me informed of what he was checking for.
Previous glasses provided by another company turned out to be the wrong prescription! The office staff were amazing and couldn't do enough to help, wonderful service. Would definitely recommend." – https://ashleighsightcare.co.uk/testimonials/
Contact us online to speak to one of our friendly and experienced experts for advice on Meares-Irlen Syndrome or Visual Stress tests for dyslexia and reading difficulties at any of our branches.
https://ashleighsightcare.co.uk/wp-content/uploads/2021/05/meares-irlen-coloured-overlay-ashleigh-sight-care-e1536755459443.jpg
600
900
jon@zd9.co.uk
https://zerodotnine.co.uk/preview/asc/wp-content/uploads/2021/05/Ashleigh-Sight-Care-Logo.svg
jon@zd9.co.uk
2021-05-12 19:46:04
2021-07-22 18:29:10
Coloured Overlay Assessment – How It Could Help Your Child at School